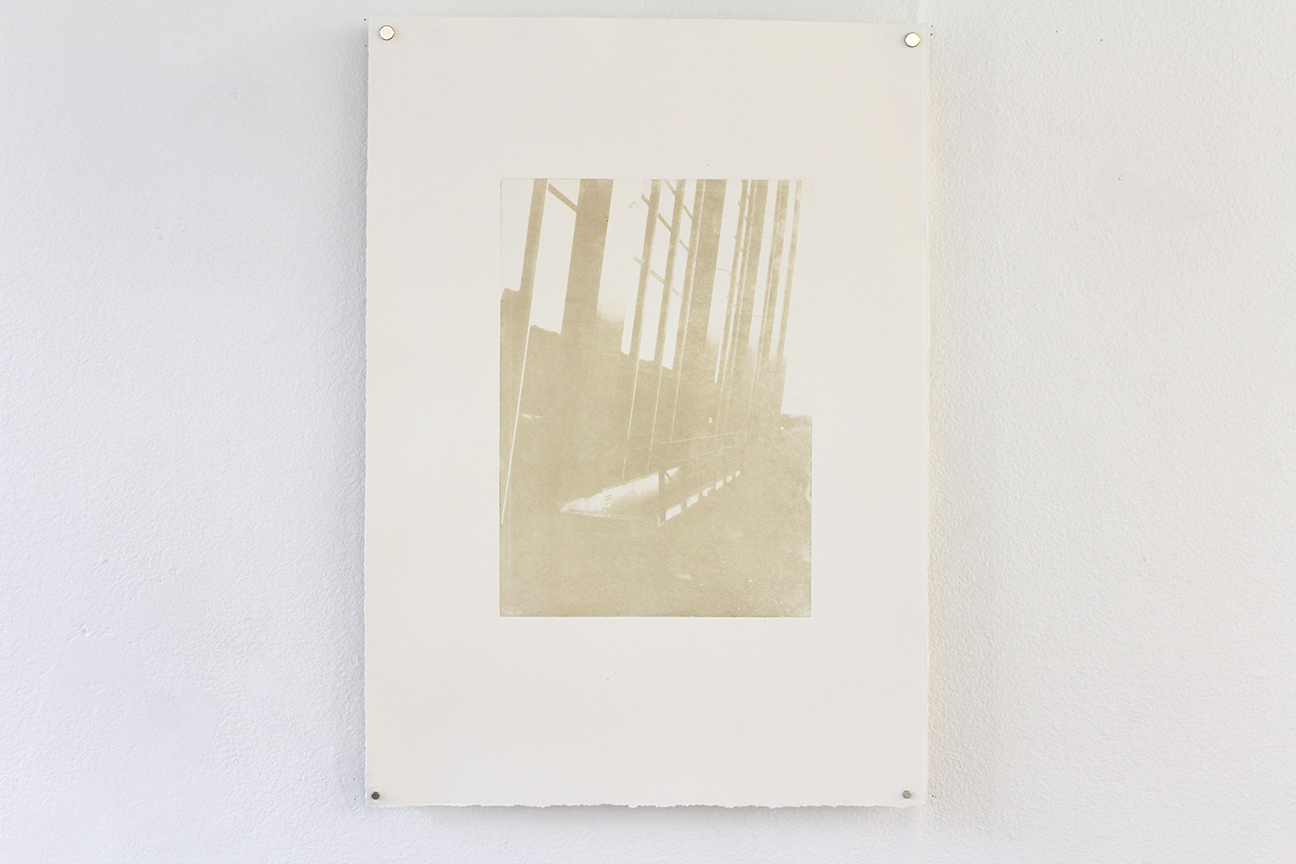 Imprints of Landscape -Photogravure (2020) is a series of seven photogravure prints, paper, magnets, nails, transparent ink and sediments collected at the site seen on print. Installation view from Danske Grafikeres Hus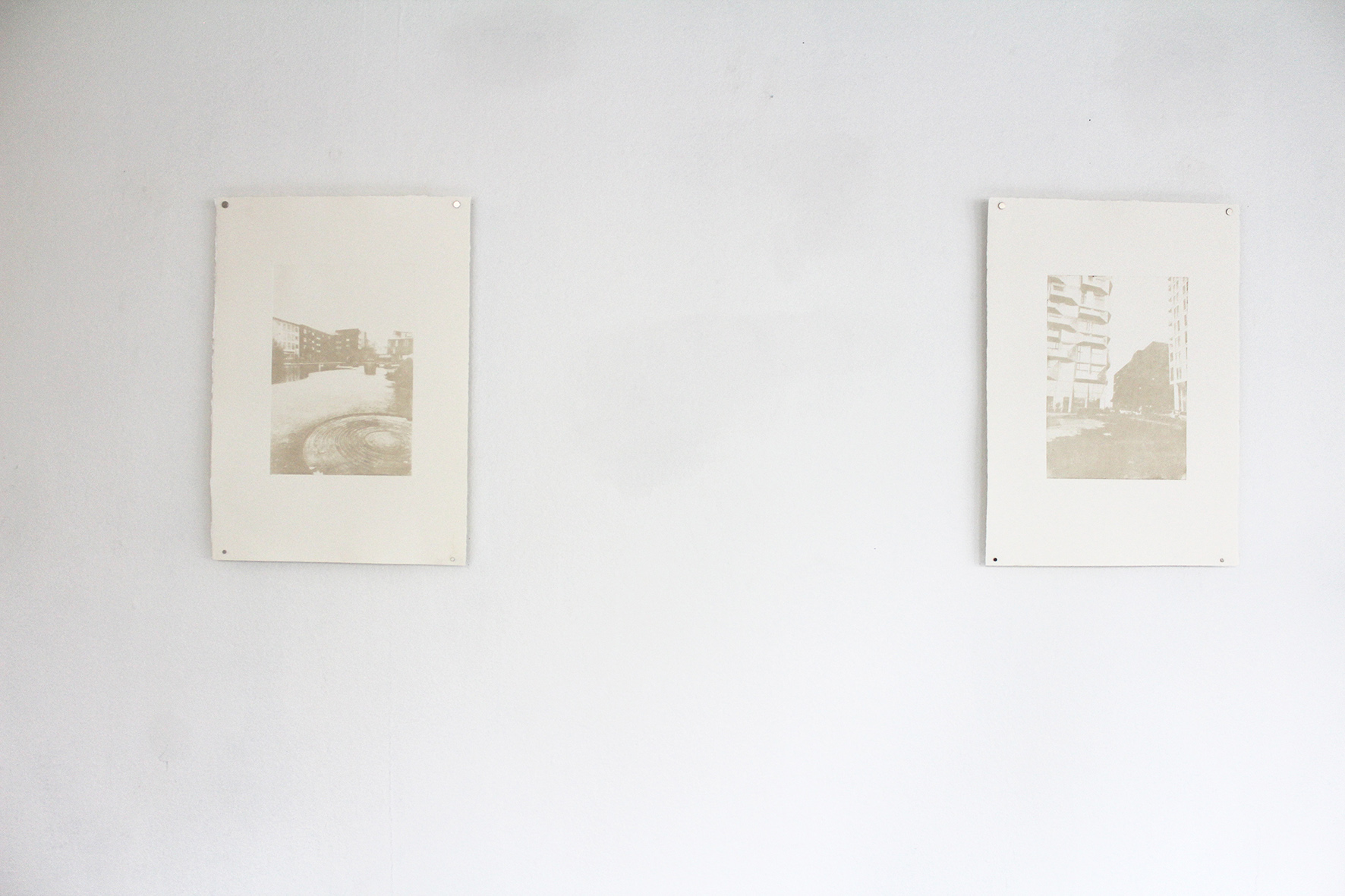 Imprints of Landscape -Photogravure (2020) is a series of seven photogravure prints, paper, magnets, nails, transparent ink and sediments collected at the site seen on print. Installation view from Danske Grafikeres Hus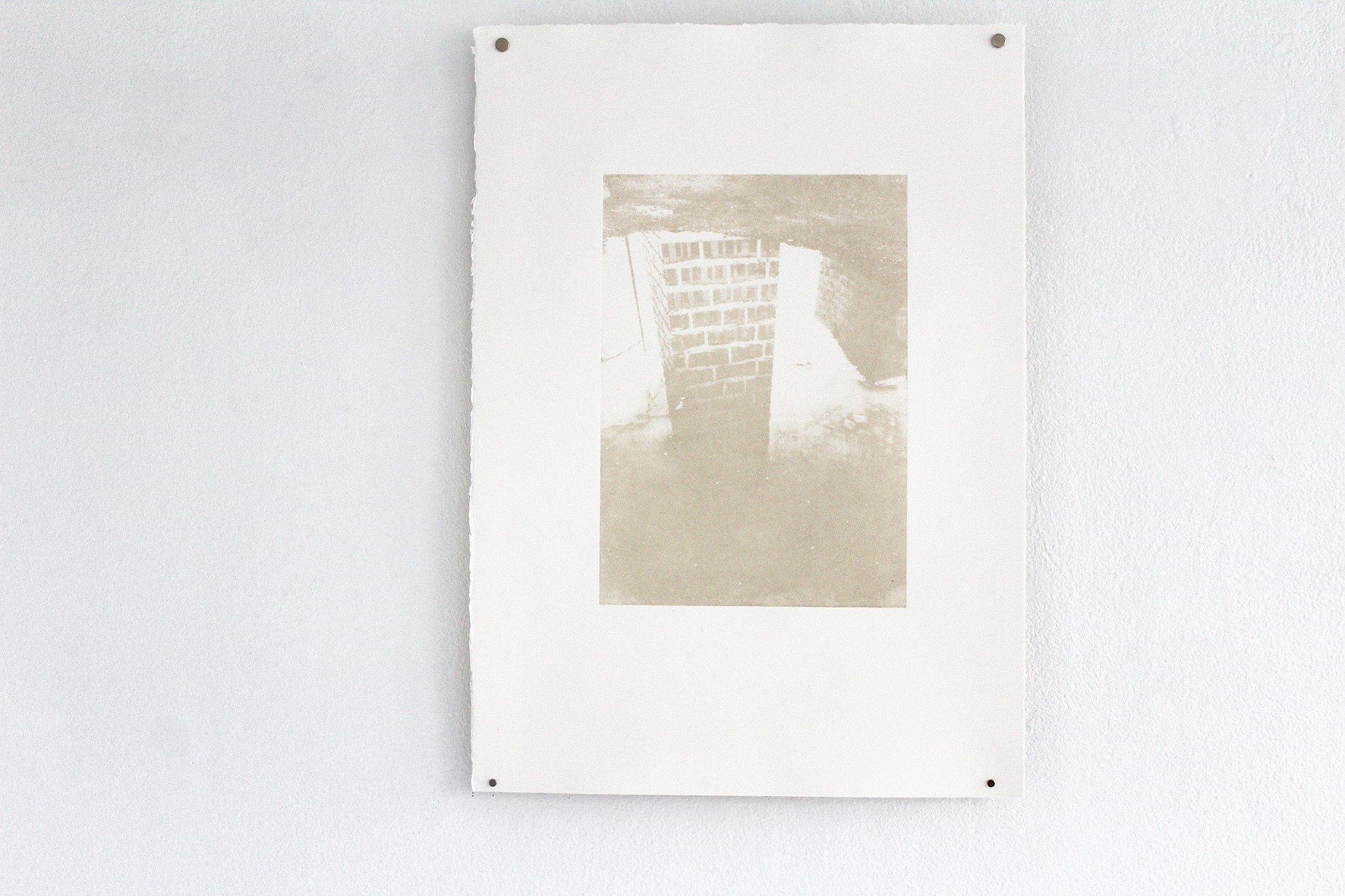 Imprints of Landscape -Photogravure (2020) is a series of seven photogravure prints, paper, magnets, nails, transparent ink and sediments collected at the site seen on print. Installation view from Danske Grafikeres Hus
Imprints of Landscape -Imprint (2019-2020) and Imprint of Landscape -3D print (2020) are two series of works. It is seven imprints of sediments in waterpuddles and seven 3D prints of digital photos of water puddles. Installation view from Danske Grafikeres Hus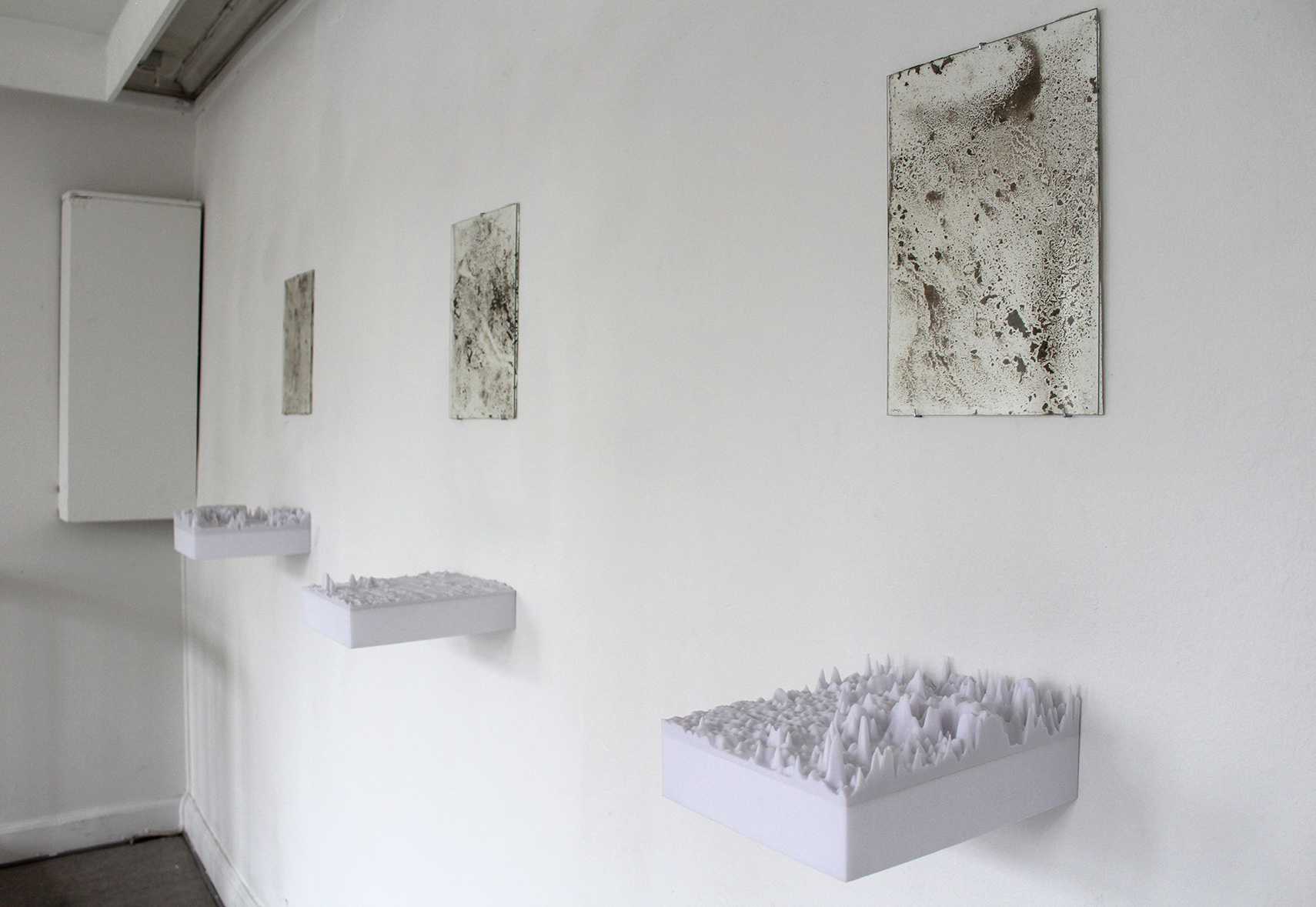 Imprints of Landscape -Imprint (2019-2020) and Imprint of Landscape -3D print (2020) are two series of works. It is seven imprints of sediments in waterpuddles and seven 3D prints of digital photos of water puddles. Installation view from Danske Grafikeres Hus
Imprints of Landscape -Imprint (2019-2020) and Imprint of Landscape -3D print (2020) are two series of works. It is seven imprints of sediments in waterpuddles and seven 3D prints of digital photos of water puddles. Installation view from Danske Grafikeres Hus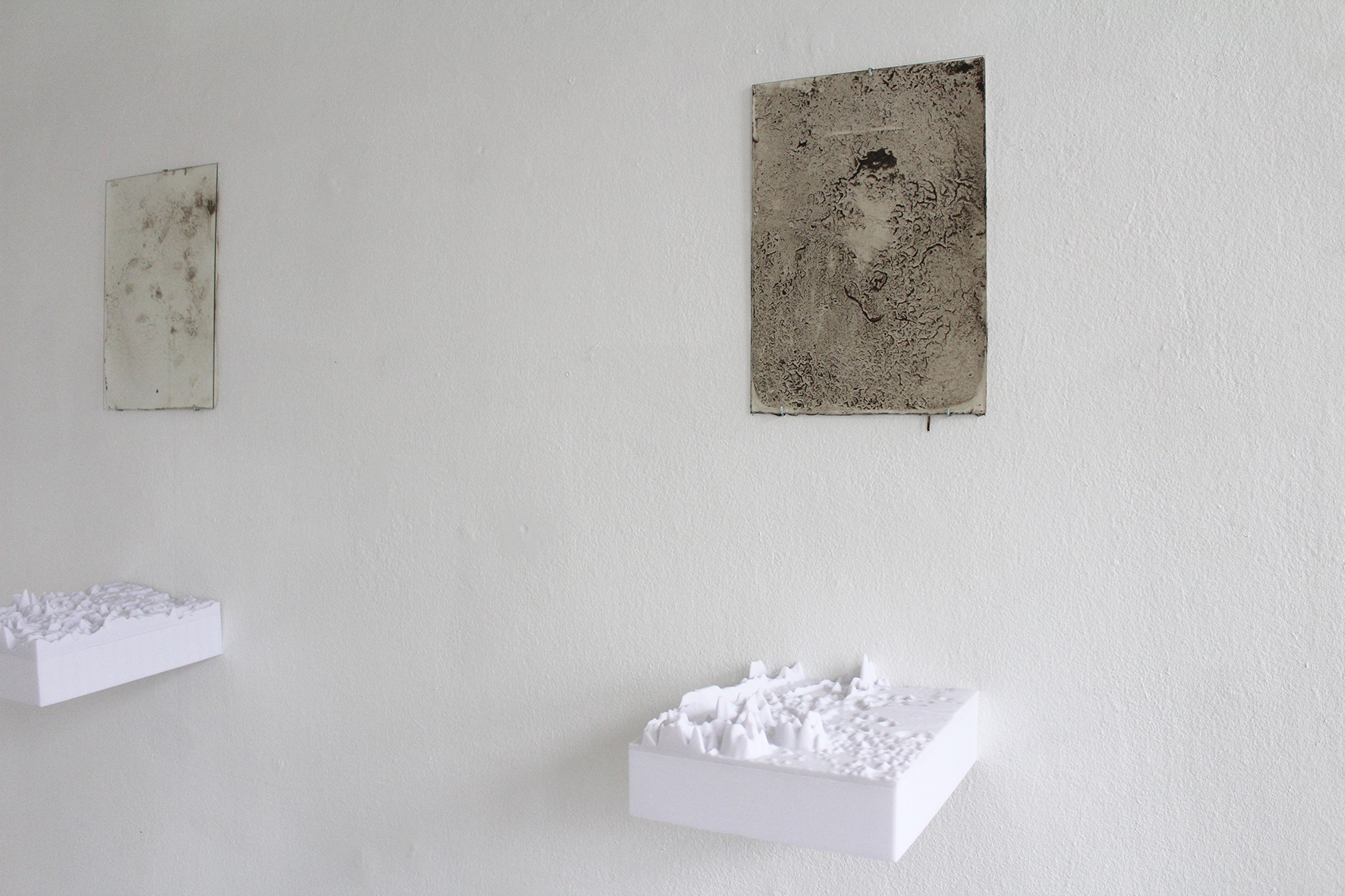 Imprints of Landscape (2020). I visited seven different locations in Copenhagen, Malmö and Hyllie. At each site I took a photo and sample of sediments. I used these samples and photos to create the photogravure print. In this way, each print becomes a unique represetation of a specific location in Copenhagen, Malmö or Hyllie. Each site I have selected is built within the last twenty years. This means that architechture and plans was created as 3D models before it was built.
"Lyset fra den velskabte solnedgang fremhæver det computergenerede landskab. Jeg bevæger mig igennem landskabet omgivet af arkitektur som er skabt i et 3D-program. Jeg følger kortet på min mobil, leger med augmented reality, bliver imponeret over hvor godt det virker. Jeg husker dengang man talte om den digitale verden som noget andet end den virkelige verden. Jeg farer vild i ubiquitous computing. Det digitales allesteds nærværende fra den computeranimeret arkitektur omkring mig til farvekoderne af jorden under mine fødder. Hvor stopper det digitale, hvor begynder det virkelige, det fysiske? Spørgsmålet virker ikke relevant længere. Jeg kan ikke skille det virkelige og digitale fra hinanden. Den systematiske indsamling af jordprøver, er det mon et forsøg på at skabe orden i materien, ved at systematisere ursuppens mudder.

På udstillingen Imprints of Landscape arbejder Maja Gade Christensen med landskabet ved at bruge jorden og stenene som landskabet består af. Hun interesserer sig for mødet mellem det fysiske og digitale landskab. Det gøres ved at "printe" digitale fotos med jord via fotogravure, 3D-printe vandpytter og tage direkte aftryk af vandpytters sediment på papir. Hun har udvalgt steder i København og Malmø som er bygget inden for de sidste tyve år. Det betyder at bygninger og bylandskaber er startet som digitale 3D arkitektur modeller inden de blev opført i byområderne."